Quality Bathroom Caulking Services in Barrie 
One of the biggest minds humankind has ever known, Leonardo Da Vinci, once said: "Details make perfection, and perfection is not a detail." As professional handymen, we can not agree more, especially when it comes to shower and tub caulking. While it may seem like the most insignificant element of your bathroom project, a caulking job can actually determine both the durability and visual appeal of your bathroom. 
Have you just renovated your bathroom and need a hand with shower and bathtub caulking? Or maybe you're noticing that you need a bathroom caulking repair? Either way, Simcoe County Handyman can help! Our expert handyman will provide you with quality bathroom caulking services at excellent rates. 
Why Do You Need Shower and Tub Caulking?
Wondering what makes shower and tub caulking so essential? Let's break it down! 
According to NKBA (National Kitchen and Bath Association), bathrooms are the second priciest rooms to remodel, with prices ranging from $5,000 – $23,000. So given that bathroom costs you at least a couple thousand dollars, you want to ensure that this room full of moisture and humidity is as durable as it can get. This is where the importance of bathtub and shower caulking services comes in. 
Caulk is thick, a waterproof substance that is used to seal joints and fill in cracks to ensure that moisture, dirt, and air won't get in. What's more, most caulks have ingredients that prevent the formation of mildew and fungus, which are common in moist environments. So properly done caulking job is a guarantee that your bathroom appliances will stand the test of time. 
Benefits of Bathtub Caulking Services/Shower Caulking Services 
So we made it clear that bathroom caulking is crucial. But you may wonder –  is requesting bathtub and shower caulking services from a professional handyman a necessity? After all, it seems like a job that you can easily take on!
Well, even though there is no rocket science involved in shower and bathtub caulking services, they have some prominent benefits that make them worth considering:
Save Precious Time 
When you decide to do shower and tub caulking all by yourself, there is a chance that you'll need to do some research in order to get it right. Even then, there is no guarantee that you'll do the proper caulking job your first time. Resultantly, you may lose a lot of time and still don't get the desirable results. 
One of the most significant advantages of getting professional bathroom caulking services is that you will save time! What's more, the handyman who will complete the job will do it much more quickly and efficiently than you would with your DIY methods. 
Guaranteed Results 
While caulking may seem like a pretty straightforward process, there is a good chance that you will mess up. No offense, though – it takes time and experience to master shower and tub caulking that delivers results! So why not just let an expert local handyman handle it? 
When you hire a bathroom caulking professional, you can rest assured that your shower and bathtub joints are properly sealed. This means that you won't have to worry about damaging your precious appliances due to a faulty caulking job!
Professional Advisors
In order to ensure that the bathroom caulking is durable and does the job at securing joints, it is essential that you use the right caulking materials and tools. You may do everything correctly but fail to choose the tailored caulking solution to your needs. That's where the need of shower and tub caulking specialist comes in. 
When a caulking expert first arrives at the location, they assess your unique requirements and do the job according to that. And this can only be done by a person who has accumulated skills and experience in the field. 
When Do You Need Shower Caulking Repair / Bathtub Caulking Repair 
On average, if everything is done correctly and thoroughly, bathroom caulking should last up to five years. However, there are certain variables that determine the actual lifespan of caulk:
Type of caulk used (the most common are pure silicone and siliconized latex);
The quality of the application; 
Humidity levels;
The condition of the surface where caulk is applied; 
Maintenance. 
Once the caulk starts to deteriorate you need to get it re-caulked as soon as possible. Shrinking, cracking, and loosening are tell-tale signs that you're in dire need of bathroom caulking repair. Keep in mind that putting off the shower and tub caulking repair may lead to further complications, such as fungal growth and mold. What's more, a disrupted caulk seal will let water and steam accumulate in joints and may lead to damaging your appliances.
Barrie Shower And Tub Caulking And Caulking Repair Services You Can Count On 
You don't have to worry about faulty or failing bathroom caulking on our watch! Our team at Simcoe County Handyman consists of qualified caulking contractors backed with years of experience. Barrie locals trust us with their bathroom caulking and you should too. We carry the highest quality materials and tools needed to provide you with second to none caulking services. 
However, technical skills and accuracy are not the only benefits that make Simcoe County Handyman stand out of the sea of competitors. We respect your time and make sure that we complete the job in agreed-upon time. What's more, with us, you won't have to stress about prices that break the bank – we have caulking materials that fit any budget. 
Request Our Bathroom Caulking Service Today
What are you waiting for? Simcoe County Handyman is just around the corner, ready to take on your shower and tub caulking. Fill out the estimate form, let us know your needs and we will get back to you with estimates. With us, you have a guarantee that the caulking will be taken care of in a timely manner.
Shower And Tub Caulking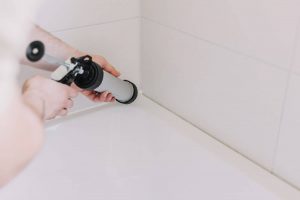 Contact our handymen for shower and tub caulking today. Free estimates. 5-Star Rated. Licensed and Insured handyman service. Trusted and dependable.
Service Type: Shower And Tub Caulking